Siliconindia Real Estate Awards - 2018, Bengaluru, Honours Real Estate Professionals for Performance & Excellence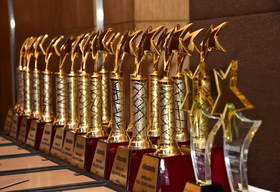 The siliconindia Real Estate Awards was started with a vision to applaud the leading real estate professionals, who have been imperative and instrumental in changing the paradigm of Bengaluru real estate industry. The award ceremony was inaugurated with a welcome note by Anamika Sahu, Managing Editor, siliconindia. Praveen Subramanya, Associate Director, Valuation & Advisory, Knight Frank India, enlightened the audience with industry key insights and felicitated the winners and offered his pearls of wisdom briefing about the ongoing market of real estate in the state.
The jury panel was shared by Dr. Aswath, Principal, Bangalore Institute of Technology, Praveen Subramanya, Anamika Sahu and Virupakshi Pattar, VP-Business Development, siliconindia, who decided on the awardees among 110+ total nominations, benchmarking Quality, Design, Architecture, Environment Balancing, Amenities and Technology as the key differentiating factors along with proper project management and quality construction.
The siliconindia Real Estate Awards - 2018, Bengaluru, is classified under 19 award categories; out of which 16are project oriented awards that are made zonal wise, namely Bengaluru South, North, and East, and three special category awards, all decided by jury after three months of through research.

The winners and their categories are as follows:

Fastest Growing Real Estate Company in Bengaluru: DS-MAX Properties Pvt. Ltd
Emerging Developer of the year: Arge Realty
Smart Township project of the year: Brigade Orchards

North Bengaluru
Mid-range Apartment project of the year: Raaga by Kolte Patil Developers Ltd.
Ultra Luxury Apartment project of the year – North Bengaluru: SNN Builders Pvt. Ltd. - SNN Clermont
Best Design Apartment project of the year: Mirabilis by Kolte Patil Developers Ltd.
Best Mid-range Villa project of the year - North Bengaluru: MSK SHELTERS
Best Architectural Design Apartment project of the year - North Bengaluru :Mantri Lithos by Mantri Developers Pvt Ltd
Best Luxury Apartment project of the year – North Bengaluru: The ICON byG:Corp Developers Pvt. Ltd.

East Bengaluru:
Environment-Friendly apartment project of the year – East Bengaluru: Mana Tropical byMana Projects Pvt. Ltd
Best Luxury Apartment Project of the Year - East Bengaluru: 77 Place by DivyaShree Developers
Best Design Villa Project of the Year - East Bengaluru: Walnut Creek by Vaswani Group
Best Ultra Luxury Villa project of the year – East Bengaluru: Raffles Park
Luxury Villa Project of the Year - East Bengaluru: The Grancarmen Address by The Address Makers
Mid-range apartment project of the year – East Bengaluru: Disha Central Park byDisha Dwellings Pvt. Ltd

South Bengaluru:
Best Affordable Apartment Project of the Year - 2018 - South Bengaluru: SK Daisy by SK Projects
Environment Friendly Villa project of the year – South Bengaluru: Malhar Patterns by Good Earth
Mid-range apartment project of the year – South Bengaluru: Esteem Emblem by Esteem Group
Eco-friendly design apartment project of the year – South Bengaluru: Axis Antra by Axis Concept Group